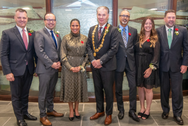 Check against delivery.
Before we begin, I would like to acknowledge that we are on the shared, traditional, ancestral, and unceded territories of the scəw̓aθən (SS-SS-WAS-THEN), xʷməθkʷəy̓əm (HOE-MUTH-QUEE-UM), and other Coast Salish Peoples.
We extend our appreciation to these First Nations for the opportunity to be here today.
We are very fortunate to have members of our indigenous communities here tonight.
From Musqueam Indian Band, we have:
Councillor Brett Sparrow
Councillor Nolan Charles
From Tsawwassen First Nation:
Chief Laura Cassidy
Executive Councillor Valerie Cross
Councillor Bryce Williams
Councillor Taylor Baker
Councillor Louise Ahlm
And thank you to Frank Campbell and Angeline Splockton for their performance tonight.
I'm honoured to stand before you tonight to continue to serve as Mayor of this incredible City. I want to thank the voters of Delta for once again placing their trust in me.
I would not be standing here before you tonight without the endless support of my family, especially my wife and best friend Gillian, my son Tim, daughter-in-law Davinder, grand-daughters Ronia and Rayna, my daughter Taryn and her partner Mathew, my sister Colleen, sister and brother-in-law Susan and Knut, and my extended family the Chahals. Thank you for your never-ending support.
This has been an important election – one where the newly elected Council and I ran a positive, forward-thinking campaign talking about issues in our community – and we look forward to delivering on our commitments.
With our fresh, strong mandate from the people of Delta, we are going to move our community forward!
A second term is a tremendous honour and an opportunity to allow me to continue working with Council towards my goal of Delta being recognized as the best place to live, work, and raise a family in Canada.  
We have achieved a lot in the past four years — we worked to deliver on record investments while keeping taxes low and Delta debt-free.
We focused on delivering big projects like the North Delta Centre for the Arts and the new North Delta Track and Field Facility, which we completed in partnership with the Delta School Board. We also installed our first ever cricket pitch at Delview Park.
And we made necessary improvements to our infrastructure as our community continues to grow — like the much-needed expansion of 72nd Avenue.
I am also extremely proud of the work we did to make Delta the first municipality in Canada to allow free access to our recreation centres for children and youth.
I am a strong believer that every child in our community should have an opportunity to live a healthy lifestyle, stay busy, and be active.
And while we were able to get many things done, we all know that there is much more we can do.
Recognizing the rising cost of living and the financial impacts of COVID-19 for Delta families and seniors, we are committed to keeping our property tax rates among the lowest in Metro Vancouver to ensure Delta remains affordable for our residents.
As part of my campaign commitment of Achieving Safe Communities, we will keep Delta one of the safest places to live by increasing investments in public safety and supporting our hard-working Delta police officers and fire fighters.
We will continue to strongly advocate for localized emergency response to ensure that paramedic staffing shortages at the provincial level do not affect critical emergency response times in Delta.
And keeping Delta safe requires more than responding to active public safety issues – it's about crime prevention, education, and support for those who need it most.
And I will continue to consult with the community and experts on ways to modernize our approach to sensitive safety issues like mental health, addictions, youth at risk and domestic violence.
As I've done throughout my previous term, I will leverage our proven inter-provincial partnerships to advocate for urgently needed local addictions facilities and resources.
To ensure we provide proper support for families, seniors, youth, and individuals in need in our community, we will strengthen our partnerships with Delta social service providers.
And as part of our commitment to community building and supporting our local businesses as we had done, especially through the pandemic, we will continue our work with the Delta Chamber of Commerce and local business organizations.
We will advance projects that revitalize our community hubs and support our local businesses, like pop-up parks, expanded restaurant and café patios, and the summer concert series.
In terms of new parks and recreation infrastructure, we are committed to building on our record of success to keep our community healthy and active. We recognize that investing in our kids is an investment in the next generation of Deltans.
Throughout the past four years and during the campaign, we heard from the community how important our parks and recreation facilities are to their children and families. That's why, together with community input, our Parks Master Plan will ensure we continue to invest in our facilities.
We will rebuild the aging Winskill Aquatic Centre and place a cover on the North Delta Outdoor pool.
We will complete the Cromie Park Master Plan, including a new indoor training facility for Ladner Minor Baseball.
We will also build a second turf field at Mackie Park to meet the needs of our growing community. And we will work with our School Trustees to replace the aging tracks at Delta Secondary and Seaquam!
Those of us who have raised families and built businesses here understand that what we have in Delta is unique – and we want to see the same opportunities afforded to us passed onto our children and their children.
To ensure we keep Delta affordable for generations to come, we will tackle the housing crisis and build much needed new housing units across our city.
We understand the importance of reducing red tape around permitting and working collaboratively with housing agencies and the private sector to get housing options built for families, seniors and the most vulnerable.
We will fight for more housing options, including smart density in Delta's town centres such as Ladner Village and the Scott Road corridor; below-market rentals; and secondary suites, which help people enter the housing market, while increasing rental supply.
In addition to keeping Delta affordable, we need to ensure it is sustainable for generations to come. That's why we will continue to take real action on climate change, and protect our valuable farmland to continue to support a healthier, greener Delta.
With land below sea level, our City is particularly vulnerable to climate change. It's not enough to act alone – we will collaborate across government and community lines to ensure we mitigate the effects of climate change while building a more resilient Delta.
We will implement Delta's Cycling Master Plan to better connect cyclists throughout our City for healthier, greener commuting options.
We will also prioritize pedestrian safety through investments in sidewalks and crosswalks for better and safer connectivity.
As we continue our work in building a more sustainable Delta, we will also ensure that it is inclusive and accessible — a fair and equitable community where everyone is welcome.
Delta is proudly home to one of the most diverse populations in the Lower Mainland.
This diversity of perspectives and experiences – across age, race, religion, identity, culture and abilities – is what makes us strong and contributes to our reputation as one of the best cities in Canada to live, work, and raise a family.
Most importantly, we will do all this, not by dividing the community against itself, but by uniting it. We are not South Delta or North Delta — we are One Delta. And together, we will achieve our commitments for this great community.
Tonight marks a new chapter for this City. I am so extremely proud that, for the first time in Delta's 143 year history, the people of Delta have elected the first councillors of South Asian decent!
The demographics of Delta have changed and I am proud that our new Council finally reflects the diversity of our City.
I want to congratulate each and every one of the new councillors who have been re-elected and elected for the first time. This is a great honour as well as a tremendous responsibility to lead our City.
Congratulations! You are taking on one of the most important responsibilities public life has to offer.
I look forward to working with each of you and our community to collaborate on projects that benefit residents, support local businesses, and enhance our community.
Our first task as Council will be at our Budget Workshop next week, where we collaborate to set direction for a 2023 Annual Budget and Financial Plan for our term of office. This will lay the groundwork for the next four years and will take Delta to a new level of excellence.
Despite the many economic challenges brought on by the pandemic, Delta remains in a strong financial position.
We are committed to sticking to our plan of growing Delta's local economy and spending responsibly.
I love this City and look forward to continuing to serve the community as Delta's Mayor, which has been a privilege and the honour of a lifetime.
And finally, to every other person here tonight, our family, our friends, and our closest supporters – we could not have done this without you. Thank you Delta!