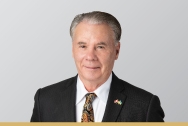 In response to a letter from Mayor George V. Harvie to Minister Rob Fleming regarding the Highway 17A southbound overpass closure, the Ministry of Transportation and Infrastructure has created a temporary solution with the conversion of the Highway 17A northbound HOV/transit lane into a southbound lane. In addition, more signage will be installed to provide clarity around alternate routes.
The new temporary Highway 17A southbound lane will allow local residents, especially those working in the Tilbury business area, to enter Ladner through the use of the overpass rather than having to take lengthy detours. Signage will be installed by MOTI to provide clear direction on the route update.
"I want to thank Minister Fleming and ministry staff for their quick response to my request for an update on the Highway 17A repairs and the congestion it has caused for Delta residents. I am pleased to have worked together with the Minister and his staff to come up with a quick temporary solution for Highway 17A southbound traffic with the conversion of the northbound HOV lane and providing an increase in signage to inform residents and visitors of alternate traffic routes."
       -   Mayor George V. Harvie
For more information about the route update, visit www.drivebc.ca.
For more information on this news release, contact the Mayor's Office at 604-946-3210 or e-mail MayorHarvie@delta.ca.