In accordance with new Provincial Health Officer Orders, the City of Delta will be cancelling Delta Parks, Recreation & Culture fitness programs, from December 23 through January 18, 2022.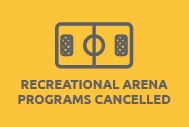 The cancellation will include all drop-in and registered fitness programs and services (including Aquafit), along with weight room and fitness centre closures. 
Programs slated to begin before January 18, 2022 will be postponed to another date. 
Recreational Arena Programs
Due to covid protocols recreational arena programs, including Public Skating, are cancelled until January 3, 2022. 
These cancellations will not impact current facility bookings for organized sports teams for games and practices.
Swimming Pools & Adult Recreational Programs
Delta's swimming pools and all other youth and adult recreational programming remain open. See below for capacity updates.
Capacity Update:
In addition to the cancellation of fitness programs and recreational arena programs, Delta's swimming pools and gymnasiums must now reduce capacity by 50% in accordance with orders from the Provincial Government. Children and youth programming will remain at full capacity, but City pools now have reduced capacity as follows:
Capacity at Ladner Leisure Centre Pools: 175
Capacity at Winskill Pools: 175
Capacity at Sungod Pools: 375
Please refer to individual facility schedules for complete hours of operation over the holidays. 
Seniors Centres
Both the Kennedy Seniors Centre and McKee Seniors Centre are currently closed until January 19, 2022.