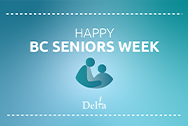 Join us from June 6-13 as the City of Delta celebrates the seniors in our community and appreciate the support they give in making Delta a wonderful place to live.
Seniors are invited mark the occasion by joining us for some of the virtual programs we will be hosting this during week. 
Cribbage Tournament
Play in a week-long virtual tournament!  Game match-ups are emailed each day, based on standings.  A winner will be crowned at the end of the week. This is done over email and phone calls – instructions will be provided on how to get set up to play.  No Zoom Required!
Register for the Cribbage Tournament here!
Coffee & a Chat
 Come along on a virtual tour of the Delta Archives and storage vault, led by Kevin Hicks, discussing the different types of records researchers can find and how to access the archives.  Look at archival photographs and compare the past with the present.
Register for Coffee & A Chat here!
Trivia: 1960s Music Bingo
Join us for Music Bingo!  A Bingo card will be sent to you.  You can print your card or open it on a second electronic device (not required).
From Picture to Painting 
Learn a fun technique to take your pictures and turn them into paintings.  For best results, please print out a copy of your picture as you may ruin your original.
Register for From Picture to Painting here!
Beautiful Watercolour Flower Painting
Paint two beautiful flowers – keep one and gift one!  Supplies are minimal: watercolour paper (trimmed to 11"x11"), watercolour paints, paintbrushes, black oil pastel, painter's tape. If you don't have access to watercolour paper, email Lisa at ldoepker@delta.ca.
Register for Watercolour Flower Painting here!
Revisiting Healthy Aging
Join Delta's Seniors Support Coordinator, Eva Busich-Veloso, and explore the basic principles of staying active and healthy as you age.
Register for Revisiting Healthy Aging here!
Armchair Travel to Ireland
Take a virtual tour of Ireland with a guide to show you the treasures the Emerald Isle has to offer!
Register for Armchair Travel to Ireland here!
Power of Attorney Workshop
This workshop is presented by Seniors First BC and focuses on the importance of advance planning, forms of financial abuse through joint bank accounts, powers of attorney, and strategies to deal with financial abuse.