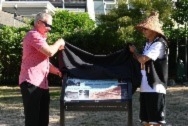 A statement from Mayor George V. Harvie on the passing of Chief Ken Baird
On behalf of Council and the City of Delta, I want to extend our deepest sympathies and heartfelt condolences for the passing of my friend, Chief Ken Baird of Tsawwassen First Nation.
Chief Baird led Tsawwassen First Nation with great leadership and a passion for community. His dedication to his people was paramount and it showed in everything he did for his Nation.
I have had the pleasure of working alongside Chief Baird in my capacity as the Mayor of Delta. His knowledge, kindness, and deep passion for the betterment of his people was commendable and the relationship between the City of Delta and Tsawwassen First Nation has been made better by his dedication to reconciliation.
He will be remembered for his contributions to his community and the friendships he has formed as he charted a path towards a more prosperous Nation.
Our thoughts are with Chief Baird's family, friends, and Tsawwassen First Nation during this time of mourning.