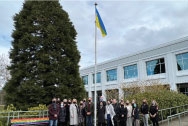 In April 2022, the Province of British Columbia launched a new website, Welcoming Ukraine, to help Ukrainian displaced people who have come to the province. The website provides information about community supports available to Ukrainians. British Columbians can also sign up to volunteer to house. 
A new telephone line, 1-800-663-7867, has also been launched to help Ukrainians navigate their settlement needs in B.C. and to coordinate donations.
People are coming together to support the people of Ukraine, including many individuals and organizations in Delta. There are opportunities to sign-up to volunteer to house Ukrainians, offer jobs, donate, etc. If you would like to help, consider the following options:
Ukrainian Canadian Organizations
Please consider supporting the following Ukrainian Canadian organizations working to support Ukrainians including refugees:
The Ukrainian Canadian Congress (UCC) is the voice of Canada's Ukrainian community and it has been uniting Ukrainian Canadians for 80 years. The Congress brings together under one umbrella all the national, provincial and local Ukrainian Canadian organizations and it has been actively advocating to and working with the Canadian government to support Ukrainian refugees.
Ukrainian Community Society of Ivan Franko is a long-standing organization located in Richmond, BC that celebrates Ukrainian history and culture, helps local Ukrainians in need and has mobilized the Ukrainian diaspora in Metro Vancouver to support Ukrainian refugees around the world.
Founded in 2014,  the Maple Hope Foundation is a registered Canadian non-for-profit organization, located in British Columbia. It raises funds to support Ukraine as they resist Russia's unprovoked invasion with the focus on three critical areas: medical support, refugee women and children, and non-lethal supplies for the front line defenders (food, protection equipment, communication devices, clothes). Maple Hope Foundation partners with various organizations and volunteer groups in Canada and Europe to procure and deliver aid directly to the on-the-ground volunteers in Ukraine.
The City of Delta stands united with Ukraine. The Ukrainian flag has been raised at City Hall and in North Delta, to show our solidarity and as a City, we donated $5,000 to the Red Cross Ukraine Humanitarian Crisis Appeal.