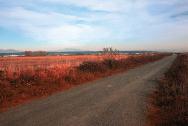 The City of Delta is creating a Cycling Master Plan for our community to develop a well-connected and complete cycling network that is safe, convenient, and comfortable for people of all ages and abilities.
To have your say, complete a short, 5-minute survey by February 5, 2021. Public feedback from the survey will help to identify issues and opportunities for improving Delta's cycling network.
Visit Delta's Cycling Master Plan project page at letstalk.delta.ca/cyclingmasterplan for more information and to participate in the online survey.
For more information, email the Engineering Transportation project manager, Khelan, at kupadhyay@delta.ca.