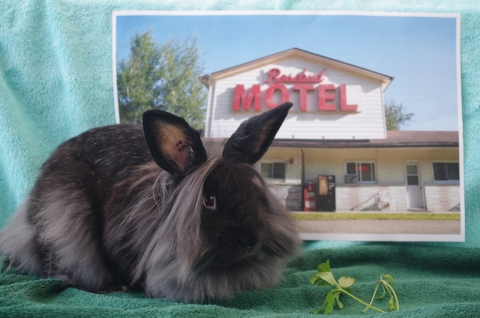 Introducing … The Schitt's Creek Colony of Rabbits!
Unfortunately, Johnny and his friends were found abandoned outside of the animal shelter. It took a lot of effort to round up the crew, as they were quite scared going from house rabbits to the wild. Thankfully, Johnny was saved and has been thriving ever since!
Johnny is a spunky little guy with quite the fun personality, to go with his crazy hair do! Like his friends he is a very social bunny and loves to hop around, exploring while tossing toys around! Like most rabbits, Johnny can be a bit unsure about being picked up but he will seek affection in the form of gentle head petting.
Johnny and his friends are carriers of a rabbit bacterial infection that may flare up in the future if they become sick. For this reason it would be ideal that he be adopted alone or with one of the colony members, but NOT be adopted with other rabbits from outside of his family. Not to fret, because the bacteria shouldn't cause them any ongoing issues as long as they're kept healthy and happy!
*Note all rabbits adopted from the shelter have been spayed/neutered with ear tattoos and microchips for identification. They have also been vaccinated for the RHD Virus.*