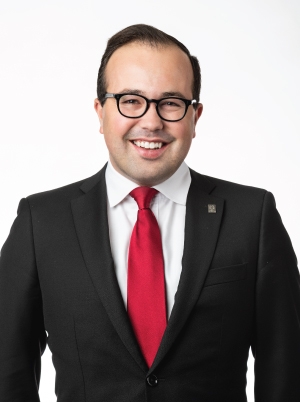 On October 20, 2018, Dylan Kruger became the youngest elected City Councillor in the history of Delta. 
Dylan comes with extensive experience at both the federal and provincial levels of government. He is passionate about protecting the environment, supporting local businesses, keeping young families and seniors in Delta, and making sure the next generation of Deltans are set up for success.
Dylan is a vocal supporter of the Delta Families First initiative, which promotes priority access to Delta's parks and recreation facilities. As a result of this initiative, the City of Delta is the first local government in the region to offer an extensive free youth admission pass program.
Dylan believes that local government should be accessible and accountable to everyone. He is a supporter of initiatives to make government more transparent and efficient. Respect for tax dollars is important, which is why Dylan has voted to keep taxes low and Delta debt-free.
Born and raised in Delta, you will often find Dylan walking around Watershed Park with his wife Katie or frequenting one of Delta's outstanding local craft breweries.
Dylan enjoys meetings with constituents and welcomes all residents to keep in touch with him via phone, text, or email.
Municipal appointments
Climate Action and Community Liveability Advisory Committee, Chair

Delta Chamber of Commerce, Council Liaison

Fraser Valley Regional Library Board, Alternate

Mayor's Task Force on Building Permits and Development Applications, Chair

Mayor's Task Force on Diversity, Inclusion and Anti-Racism, Vice-Chair

Mayor's Youth Council, Council Liaison

Metro Vancouver Board of Directors, Alternate

Metro Vancouver Climate Action Committee, Member

TransLink - Mayors' Council on Regional Transportation, Alternate

TransLink - Regional Transportation Planning Committee, Alternate

Tsawwassen Business Improvement Association, Council Liaison