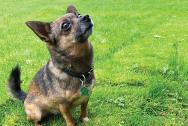 The 2021 dog licences are now available!
To provide support during COVID-19, the period to purchase dogs licences at a discounted rate has been extended. Whether you are purchasing for the first time or renewing, residents are encouraged to obtain their licence online through deltaonline.ca.
All 2020 dog licences expired December 31, 2020, but you can purchase your 2021 licence at a discounted rate until February 28, 2021. Visit delta.ca/doglicences to learn more about fees and available payment options.