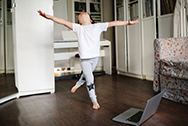 Stay active and engaged while socializing with other members of the community by joining us for some of our fantastic Virtual Recreation Centre programming!
Take a look at all the virtual programs the City of Delta has in store for June!
Baby Daze
New parents, join us for Baby Daze, a free, nurse-led program. Socialize your baby while receiving valuable information in an inclusive environment. Program will be initially offered virtually with the hopes of moving to face to face meetings in the future.
This months topics include:
Attachment & Temprament
Maternal Wellbeing
Keeping Your Child Well
Art for Adults
These classes are for adults and are simple projects good for beginners. Take some time to relax and enjoy the simple process of creating your own personal work of art! Supply lists will be provided prior to class start and will be items easily found at your local dollar or craft supply store! If you haven't received your Zoom invite to class an hour prior to class beginning, email agrant@delta.ca.
This month's themes include: 
From Picture to Painting
Beautiful Watercolour Flower Painting (Seniors Week)
Foggy Landscape
Arts & Crafts
Each class we will work on two projects. Come explore with us and be prepared to use a variety of simple materials to create some pretty cool art. There are supplies you will need from home to complete these projects. See supply list in the view details section. If you do not receive your Zoom invite an hour before class is scheduled to begin, please contact ldoepker@delta.ca to request it.
This month's themes include:
Homemade Stickers & Ladybugs
Bubble Wrap Dinosaur & Truffula Trees
Straw Blowing * Watercolour techniques
Father's Day DIY Stamps & Word Art
Register for Arts & Crafts here!
Dance Sampler
Experience ballet, jazz, hip hop and more in one fun and lively 30-minute dance class from the comforts of your own home. It is recommended that parents are in the same room just in case they need to assist. Make sure that your dancer has ample room to move around. A zoom invite for class will be sent prior to class. One registration per household please. Siblings can share invite.
Classes are available for 3-4 year olds, as well as 5-10 year olds.
Register for Dance Sampler here!
Intro to Ballet & Jazz
This class will be adapted to fit into your living room or bedroom. A minimum space of 5'x6' will be needed. You will only need socks or ballet sl;ippers to take part in this fun introduction to dance & the elements of formal ballet and jazz. One registration per household please. Siblings can share invite.
Register for Intro to Ballet & Jazz here!
Hogwarts at Home
Accio! Your spell worked! Hogwarts is coming to you over Zoom! Get together with other Potterheads to talk about the books, movies and what house you're from as we work on spells (experiments) and art projects that connect us to the Wizarding World.
Register for Hogwarts at Home here!
Out of the Box Art
Let's explore the endless possibilities of art by using items and materials we don't normally think about when painting and crafting. This is a virtual art and science program with parent participation likely required at times.
Register for Out of the Box Art here!
Pop Culture Trivia – Marvel Edition
Get your competitive yet comfortable pants on and join us for a virtual pop culture trivia night. Each month will be a new theme so make sure to check back to find the night that you'll take home the big win. Winners will receive the highly coveted Certificate of Knowledge!
Register for Pop Culture Trivia – Marvel Edition here!
Virtual Fitness Schedule
*45-minute class
Please note that registration for Virtual Fitness Classes closes at 2pm the day prior to the class. Register at DeltaReg.ca or by calling 604-952-3000. 
No classes on July 1.
Please register early! Classes may be cancelled if minimum registration is not met.  Notification of cancellations will be provided prior to scheduled class start time.
Seniors Week
From June 6-12, the City of Delta has an entire slate of fun and informative Seniors Week Virtual Programming.