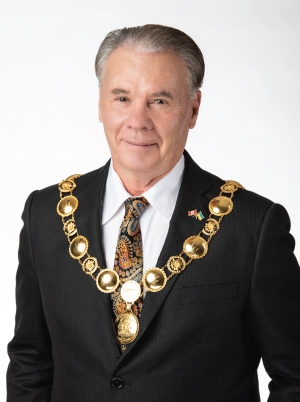 George V. Harvie was first elected Mayor of the City of Delta in 2018 and is currently serving his first term as Chair of the Metro Vancouver Board of Directors.
Mayor Harvie, a long-time resident of South Delta, was appointed Chief Administrative Officer for the City of Delta in 2001. Before this appointment, he was employed with the City of Burnaby where he served over 30 years in a number of positions including Deputy City Manager, Director of Human Resources and Manager of the Environmental Health Department. For his outstanding community service, he was recognized with the Queen Elizabeth II Diamond Jubilee Medal.
A strong advocate for the Delta community, he was successful in bringing together senior levels of government to resolve local issues and bring significant benefits to Delta. With his vision and leadership, he transformed Delta's financial management to place Delta as one of the best managed municipalities in British Columbia. With 45 years of local government service, he provided leadership to all departments to ensure they met their responsibilities and that Council's directions and policies were carried out.
During his first term, Mayor Harvie led the City to numerous major accomplishments, including a new $8 million track and field facility at North Delta Secondary School, completion of the Douglas J. Husband Discovery Centre, streamlined permitting for outdoor patios for restaurants and cafés, a cover for the Ladner Lacrosse Box, pop-up parks throughout Delta, important action on diversity, inclusion, and reconciliation, a Housing Action Plan and key planning efforts in communities, and many more supports for various community interests, achieved through collaboration with regional counterparts and senior levels of government. Most of these achievements were completed during the COVID-19 pandemic, which required strong and prudent leadership to keep the community safe while ensuring Delta continued moving forward in all aspects of civic life. Mayor Harvie looks forward to continued growth and accomplishments in the future.
Mayor Harvie has a B.A. in Economics from Simon Fraser University, an Administrative Management Special Certificate and an Environmental Health Diploma of Technology from the British Columbia Institute of Technology. He also studied Advanced Management at Dalhousie University.
Municipal appointments
Community Investment Standing Committee, Chair
Delta Council / Delta Board of Education Liaison Committee, Member
Delta Farmers' Institute, Council Liaison
Delta Police Board, Chair
Metro Vancouver Board of Directors, Chair
Metro Vancouver Mayors Committee, Member
Metro Vancouver Financial Plan Task Force, Chair
Municipal Finance Authority, Member
Musqueam Indian Band, Council Liaison
TransLink Mayors' Council on Regional Transportation, Member
Tsawwassen First Nation, Council Liaison