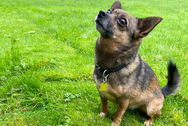 While the holiday season is just around the corner, it's also that time of the year to get your pooch some new bling — a shiny, new, gold 2023 Delta Dog Licence!
All dogs 6 months and over require a dog licence but getting one does not have to be difficult. To apply or renew, we encourage people use the City of Delta's online portal: deltaonline.ca. It is the most efficient and contactless way to pay. Renew early to get a discount.
Remember, your 2022 dog licence expires on December 31, 2022. 
If you do not have a credit card or are new to Delta, check out our webpage delta.ca/doglicences for other ways to get your pooch registered!