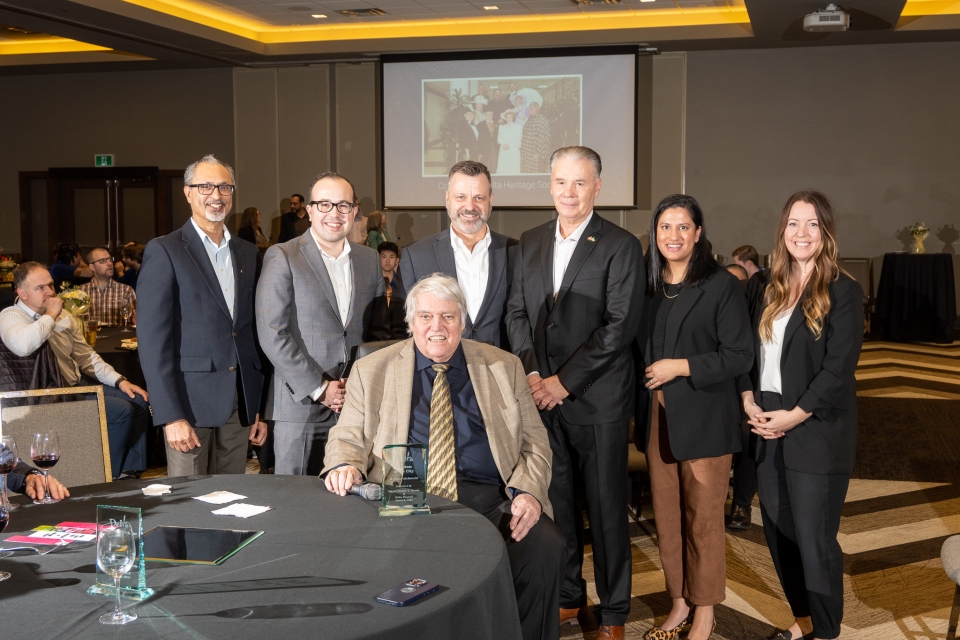 Yesterday, Mayor George V. Harvie hosted the first Mayor's Achievement Awards from the City of Delta to 13 incredible individuals and 2 sports teams from the community. The Freedom of the City Award was also presented to former Councillor Bruce McDonald for his contribution and dedication to making the City of Delta the best community to live, work, and play.
"Our city has so many incredible individuals and organizations who have contributed an outstanding amount of their time and passion towards achieving great outcomes for our community," said Mayor George V. Harvie. "It was an honour to present these awards to all the very deserving people who have made it their goal to make a positive impact in our community."
The list of winners for the 2023 Mayor's Achievement Awards are as follows:
Outstanding Volunteer Award: Jeremy Stam, Kathy Lane, Sheryl Gray, and Don Sangster

Environment Leadership Award: Deborah Jones

Different Maker Award: Nathan Wilson and Alex Sangha

Arts & Culture Award: Warren Dean Flandez and Angela Rebrec

Special Achievement Award: Jane Devji

Long-term Contribution Award: Steve Krawchuk, Bill and Tracey McKnight

Special Sports Teams Recognition: Ladner Pioneers Senior B Lacrosse Team and Delta Blue Jays Bantam Team
The Freedom of the City Award was presented to former Councillor Bruce McDonald, only the fourth recipient to receive this award in the history of Delta. The previous recipients were The Honourable William Andrew Cecil Bennett in 1969, Edgar C. Dunning in 2004, and Arne F. Knudsen in 2006.
"It was an exceptional privilege for me to present my esteemed former colleague Bruce McDonald with the Freedom of the City Award," concluded Harvie. "As only the fourth person in Delta's history to receive this prestigious award, Bruce is in good company as he has selflessly dedicated his time, influence, leadership, and commitment to our city. It was a great honour for me to have worked collaboratively with him for so many years and I want to thank him for his long-standing service to making Delta the best community in BC. To quote his infamous catch phrase that he often liked to share, 'We live in the best part, of the best part, of the best part of the world.'"
For photos from the 2023 Mayor's Achievement Awards, click here.
For more information on this news release, contact the Mayor's Office at 604-946-3210 or e-mail MayorHarvie@delta.ca.
- 30 -
Backgrounder:
The Freedom of the City Award is the highest honour that the City of Delta can bestow and is restricted to only very exceptional cases of exceedingly high merit where Council wishes to honour a distinguished person or a distinguished unit of the armed forces of Canada.
Robert Bruce McDonald was first elected to Delta Council in 1988 where he served nine terms before retiring from his role last October. As a long-standing member of Delta Council, Bruce has worked on every municipal committee or commission and acted as a strong community advocate with an immense knowledge of local issues.
Bruce has been a resident of Delta for 50+ years and together with his wife, Barbara, they raised their three children in North Delta. In addition to serving on Council, Bruce's professional experience includes 41 years in air traffic control; both as an operational controller and senior manager.
This past November, Bruce was named Citizen of the Year by the Delta Chamber of Commerce, in recognition of his long and extraordinary service and contributions towards bettering our community.