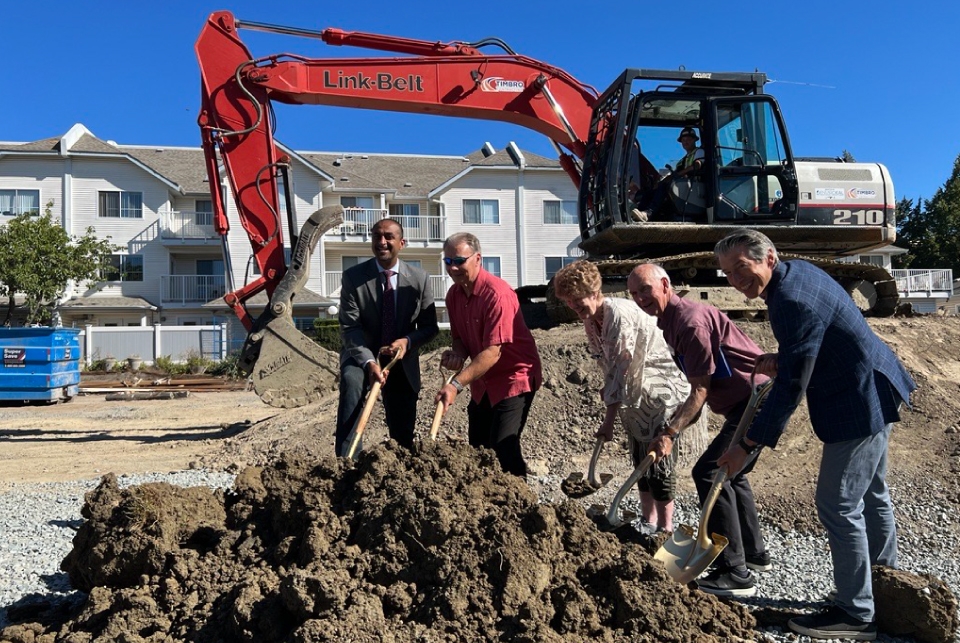 Mayor George V. Harvie and Councillors Rod Binder, Daniel Boisvert, and Jessie Dosanjh, joined Delta North MLA, the Honourable Ravi Kahlon, KinVillage CEO Dan Levitt, along with representatives from BC Housing and KinVillage, for a groundbreaking celebration to mark the beginning of the construction of 152 new affordable apartments for seniors, representing the first phase of KinVillage's master-planned community.
Construction of the new KinVillage apartment building is expected to be complete in late 2024 and will also feature 95 parking stalls, amenity and program space, an outdoor rooftop deck with greenspace, 30 bicycle lockers, 23 scooter lockers and 154 storage lockers.  
The City of Delta is pleased to contribute towards this project in its capacity to waive all development cost charges, providing over $920,000 in savings. Last year, Council adopted a development cost charge waiver bylaw for not-for-profit rental housing projects in Delta. By alleviating the financial burden of development cost charges for non-profit rental housing, the City aims to encourage the growth of affordable housing developments in our community like KinVillage.
The Province of British Columbia, through the Building BC: Community Housing Fund, is investing $17 million towards this project and providing an annual operating subsidy of approximately $1.4 million. KinVillage is contributing land equity of approximately $23.3 million and additional equity of approximately $2.3 million.
Metro Vancouver is also waiving over $648,000 in fees for this project, along with TransLink, who is waiving over $236,000 in fees.
"I'm excited to see the first phase of KinVillage's ambitious master plan underway. This is a much welcomed project for our community and we look forward to the positive impact it will have for seniors seeking affordable housing in Delta. I want to thank everyone who has worked tirelessly to make this project a reality, especially BC Housing, the Province of British Columbia, and KinVillage CEO Dan Levitt and his dedicated staff and Board, who have been instrumental in developing and overseeing the future vision and multi-year master plan. Together, we are creating a more connected, vibrant community for seniors to live and thrive."
- Mayor George V. Harvie
Looking to the future, the City continues to support and advocate for further investments in affordable housing and developments that align with its Housing Action Plan and support those who choose to live and work in Delta.
For more information on this news release, contact the Mayor's Office at 604-946-3210 or e-mail MayorHarvie@delta.ca.