Office of the Mayor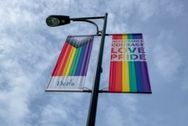 Residents and visitors to Delta will start to see rainbows popping up across the community as the City begins installing rainbow street banners along its major road corridors in celebration of Pride Month.
Delta's rainbow street banners were designed in consultation with the Delta Pride Society and the Mayor's Task Force on Diversity, Inclusion, and Anti-Racism. The banners incorporate both the Rainbow Pride flag and Progress Pride flag, the latter of which includes transgender and BIPOC representation. The banners also feature four words - Acceptance, Courage, Love, Pride - which reflect the lived experiences of Delta's LGBTQ2S+ community.
Throughout the month of June, the City of Delta will release a short video every week featuring interviews with members of the Delta Pride Society, Mayor's Task Force on Diversity, Inclusion, and Anti-Racism, and Sher Vancouver reflecting on what each of the words in the banner means to them.  
"The rainbow street banners show our commitment to advancing inclusion and creating safe and welcoming spaces in Delta. The banners are being placed at community entrances to send a signal to everyone who walks, drives, or rides into the community, that no matter how you identify or who you love, everyone is welcome here."
- Mayor George V. Harvie
"As a city, we know that we have an important role to play in making Delta an inclusive community. Creating rainbow banners for Pride Month is just one small step in our efforts to lift LGBTQ2S+ voices, support rights, and celebrate inclusivity in Delta."
- Sean McGill, City Manager
"I wish there was a sign of acceptance, such as these Pride banners, when I was growing up in Ladner.  Maybe I wouldn't have had to hide who I truly was for so long.  Hopefully, the banners will help someone who is just realizing their true self to feel supported and accepted as a valued member of our city." 
- John Darras, President, Delta Pride Society
The City of Delta kicked-off Pride Month on June 1st with the raising of the Progress Pride flag at City Hall. Mayor George V. Harvie raised the flag with the help of Christa Horita Kadach from Delta Pride Society, Joshna Hirani from Sher Vancouver, and Delta Councillor Dylan Kruger.
For more information on this news release, contact the Mayor's Office at 604-946-3210 or e-mail MayorHarvie@delta.ca.