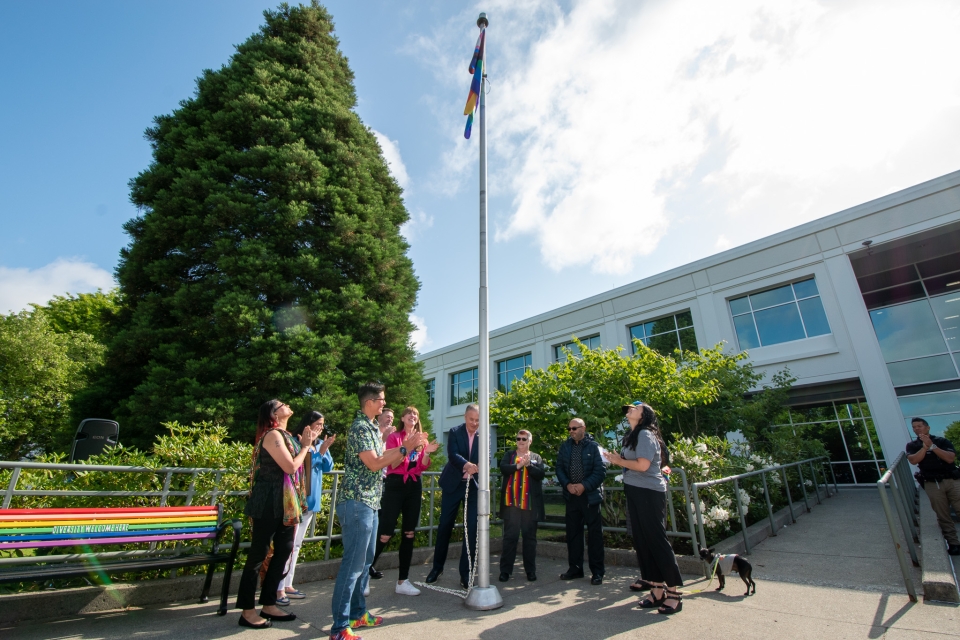 The City of Delta hosted its fifth annual Progress Pride Flag Raising ceremony at City Hall today in celebration of Pride Month. At the ceremony, Mayor George V. Harvie was joined by members of Delta Council, City Manager Sean McGill, and community partners from the Delta Pride Society and Sher Vancouver, as well as Interim Minister Nancy Painter from the Ladner United Church and Carol Johnson from the Estuary Church. Members from the City of Delta's Diversity, Inclusion, and Anti-Racism Committee also participated in this important occasion.
Pride month, observed annually in June, is a time to recognize and honour the struggles of the 2SLGBTQ+ community, while promoting equality and fostering an inclusive society. This is the fifth consecutive year the City of Delta has held a Pride Flag raising ceremony to show its support and stand in solidarity with our 2SLGBTQ+ residents, friends, and allies; acknowledging the progress made and the work that still lies ahead.
Mayor Harvie expressed his support, stating, "Let us remember the significance of the Progress Pride Flag and its colours and symbols, which incorporates the Transgender Flag colours and the colours of marginalized communities within the 2SLGBTQ+ spectrum. It is a powerful reminder that the fight for equality extends beyond sexual orientation, and that our city's commitment to progress is inclusive of all members of the 2SLGBTQ+ community.
"Despite the recent act of vandalism once again at the Ladner United Church, we will not allow it to overshadow Pride Month—which is about celebrating love. Acts like these remind us why it is important to show our unwavering support for the 2SLGBTQ+ community to ensure everyone feels welcome, safe, and valued."
City Manager Sean McGill added, "I am proud to stand alongside our vibrant and diverse community as we celebrate Pride Month. This is a time to honour and recognize the immense contributions, resilience, and spirit of the 2SLGBTQ+ community. The City of Delta has come a long way in our approach to diversity and inclusion and we are more committed than ever to show all members of our 2SLGBTQ+ community that they belong."
In addition to the Progress Pride Flag raising, Delta's Rainbow Street banners will return for the month of June. The Rainbow Street banners are being placed at community entrances to send a signal to everyone who walks, drives, or rides into the community, that no matter how you identify or whom you love, everyone is welcome in Delta.
For more information on this news release, contact the Mayor's Office at 604-946-3210 or email Mayorharvie@delta.ca.
PHOTO: Progress Pride Flag Raising Group Shot