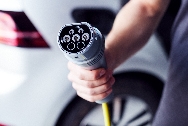 For immediate release – February 24, 2023
Le français suit
The City of Delta is pleased to announce it has received a $200,000 investment through Natural Resources Canada's Zero-Emission Vehicle Infrastructure Program. This includes $150,000 to support the installation of one electric vehicle (EV) fast charger and 20 Level 2 EV charging stations at public facilities across Delta, as well as $50,000 for 10 Level 2 EV chargers at three of Delta's fleet facilities. In addition, the Province of BC is also contributing $25,000 for the fast charger under the CleanBC Go Electric Public Charger Program.
These grants will help build upon Delta's community-wide network of electric vehicle charging stations. The new public stations are expected to be operational in late 2023. The fleet charging stations will be the first for Delta; this infrastructure is necessary to support the electrification of Delta's fleet.
"We're making electric vehicles more affordable and charging more accessible where Canadians live, work and play. Investing in more EV chargers, like the ones announced today across Greater Vancouver and the country, will put more Canadians in the driver's seat on the road to a net-zero future and help achieve our climate goals." 
–  The Honourable Jonathan Wilkinson, Minister of Natural Resources  
"Delta has a bold commitment to climate action. As more and more Deltans choose electric vehicles, it's important that we have a network of charging stations in our community. This investment will make it easier for people to get around while at the same time achieving our climate goals."
–  The Honourable Carla Qualtrough, Minister of Employment, Workforce Development and Disability Inclusion and Member of Parliament for Delta
"British Columbians want to make good choices for the environment, and improving access to public charging infrastructure means even more people can make the transition to driving electric vehicles. I'm thrilled to be working together with the federal government and the City of Delta on a community-wide network of charging stations that will move us towards our CleanBC goal of reducing greenhouse gases for a more sustainable future."
–  The Honourable Josie Osborne, B.C. Minister of Energy, Mines and Low Carbon Innovation
"I want to thank the Federal and Provincial Governments as this funding goes a long way towards supporting Delta's Electric Vehicle Strategy, helping us create the infrastructure needed to encourage electric vehicles in our community. I appreciate working with our Member of Parliament, the Honourable Carla Qualtrough, and acknowledge her support towards Delta's climate action goals and providing greener transportation options for residents as we work towards a net-zero future."
– George V. Harvie, Mayor of Delta
The City of Delta has been working continuously on reducing its greenhouse gases and on climate mitigation and adaptation. As part of these efforts, Mayor Harvie and Delta Council endorsed an Electric Vehicle Strategy to recognize the importance of electric vehicles in reducing Delta's carbon footprint. Several actions in the City's Electric Vehicle Strategy support increasing Delta's public electric vehicle charging network. The funding provided by Natural Resources Canada and BC assists Delta in achieving this goal.
For more information on this news release, contact the Mayor's Office at 604-946-3210 or e-mail MayorHarvie@delta.ca.
***
BUREAU DU MAIRE
Pour diffusion immédiate – Le 24 février 2023
La Ville de Delta est heureuse d'annoncer l'obtention d'un investissement de 200 000 $ dans le cadre du Programme d'infrastructure pour les véhicules à émissions zéro de Ressources naturelles Canada. De cette somme, 150 000 $ serviront à l'installation d'un chargeur rapide pour véhicules électriques (VE) et de 20 bornes de recharge de niveau 2 dans des installations collectives de Delta. Une somme supplémentaire de 50 000 $ permettra l'installation de 10 chargeurs de VE de niveau 2 dans trois parcs de véhicules de Delta. De plus, le gouvernement de la Colombie-Britannique contribuera également à hauteur de 25 000 $ pour le chargeur rapide dans le cadre du programme CleanBC Go Electric Public Charger.
Ces subventions permettront d'améliorer le réseau communautaire de bornes de recharge pour véhicules électriques de Delta. De nouvelles bornes publiques devraient être mises en fonction à la fin de 2023. Les bornes de recharge du parc de véhicules seront les premières de Delta; cette infrastructure est nécessaire pour soutenir l'électrification du parc de véhicules de Delta.
« Nous rendons les véhicules électriques plus abordables et la recharge plus accessible aux endroits où les Canadiens vivent, travaillent et se divertissent. Investir dans la multiplication de chargeurs de VE, comme ceux annoncés aujourd'hui à travers le Grand Vancouver et le pays, permettra à davantage de Canadiens de prendre le volant sur la voie d'un avenir carboneutre et nous aidera à atteindre nos objectifs climatiques. »
– L'honorable Jonathan Wilkinson, ministre des Ressources naturelles
« Delta a pris un engagement ambitieux en matière d'action climatique. Comme de plus en plus de résidents de Delta optent pour des véhicules électriques, il est important que nous disposions d'un réseau de bornes de recharge au sein de notre communauté. Cet investissement permettra aux gens de se déplacer plus facilement tout en atteignant nos objectifs climatiques. »
- L'honorable Carla Qualtrough, ministre de l'Emploi, du Développement de la main-d'œuvre et de l'Inclusion des personnes en situation de handicap, et députée de Delta.
 « Les Britanno-Colombiens veulent faire des choix judicieux en matière d'environnement, et l'amélioration de l'accès à une infrastructure de recharge publique signifie qu'encore plus de gens pourront faire la transition vers l'usage de véhicules électriques. Je suis ravie de collaborer avec le gouvernement fédéral et la Ville de Delta à la mise en place d'un réseau communautaire de bornes de recharge qui nous permettra d'atteindre notre objectif CleanBC de réduire les gaz à effet de serre pour un avenir plus durable. »
– L'honorable Josie Osborne, ministre de l'Énergie, des Mines et de l'Innovation à faible émission de carbone de la C.-B.
« Je tiens à remercier les gouvernements fédéral et provincial pour ce financement, car il contribuera grandement à soutenir notre stratégie en matière de véhicules électriques pour la mise en place de l'infrastructure nécessaire au déploiement de véhicules électriques au sein de notre communauté. Je suis heureux de collaborer avec notre députée, l'honorable Carla Qualtrough, et je salue son appui à nos objectifs d'action pour le climat et à notre proposition de modes de transport plus écologiques pour nos résidents en vue d'assurer un avenir carboneutre. »
– George V. Harvie, maire de Delta
La Ville de Delta travaille sans relâche à la réduction de ses gaz à effet de serre ainsi qu'à l'atténuation et à l'adaptation climatique. Dans le cadre de ces efforts, le maire Harvie et le conseil municipal de Delta ont adopté une stratégie relative aux véhicules électriques afin de reconnaître leur importance dans la réduction de l'empreinte carbone de Delta. Plusieurs mesures de la stratégie de la Ville visent à accroître son réseau public de recharge de véhicules électriques. Le financement fourni par Ressources naturelles Canada et la Colombie-Britannique aidera Delta à atteindre cet objectif.
Pour de plus amples renseignements sur ce communiqué, veuillez communiquer avec le bureau du maire au 604-946-3210 ou par courriel à MayorHarvie@delta.ca.