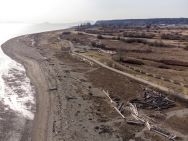 The City of Delta received a $2 million grant from the Province of British Columbia's Community Emergency Preparedness Fund under their Disaster Risk Reduction - Climate Adaptation program to undertake dike improvements in Boundary Bay.
The Community Emergency Preparedness Fund is administered through the Union of British Columbia Municipalities (UBCM) and supports projects that strengthen the resilience of First Nations and local governments in responding to and preparing for natural disasters and climate change.
"I am delighted by the announcement of $2 million for our city to help us protect our environment, public safety, infrastructure, and enhance flood protection. With future sea levels expected to rise, it is imperative that our dike be raised to adequately protect our community from future potential flooding. I want to thank the Provincial government for its commitment to supporting communities across British Columbia, including the City of Delta. This funding is another step towards mitigating local risks associated with climate change and improving flood resilience in our community."              -   Mayor George V. Harvie
With this grant funding, the City will initiate a pilot project that involves raising a section of the Boundary Bay dike adjacent to Boundary Bay Airport between 72 Street and 88 Street. This pilot project will use fill material obtained from large construction projects in the Metro Vancouver area to help reduce costs.
For more information about the Province's Community Emergency Preparedness Fund, view the Province's news release here.
For more information on this news release, contact the Mayor's Office at 604-946-3210 or email MayorHarvie@delta.ca.