Office of the Mayor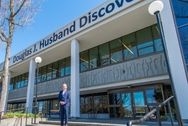 Mayor George V. Harvie and Delta Council officially opened the new Douglas J. Husband Discovery Centre to the public at a grand opening celebration held last Saturday. Located just south of City Hall, the Discovery Centre offers several unique and interactive experiences for visitors to learn about the history of Delta.
The Discovery Centre is aptly named after the late Douglas J. Husband, the former mayor and long-time Delta resident; to honour Doug's incredible contributions to the preservation and awareness of Delta's rich history. Prior to Doug's passing, a special private ceremony was held with Doug and family members to announce the centre's new name. The Discovery Centre replaces the former Delta Museum and Archives located in Ladner Village at historic Municipal Hall.
"I'm delighted to announce the grand opening of the Douglas J. Husband Discovery Centre and finally welcome visitors to learn more about Delta's vibrant history. This beautiful new space is a welcome addition to celebrate the rich cultural history of Delta as a centre for agriculture, fishing, and trade. I want to thank our Parks, Recreation, and Culture staff, the Delta Heritage Society, and everyone who had a role in making this facility come to life."
- Mayor George V. Harvie
To mark the occasion, a special item loaned from the B.C. Ministry of Agriculture was on display, the Stillwell Cup. Known as the 'Potato Cup', this trophy was awarded to a Delta farmer in 1911 at the Great Pan-American Exhibition in New York, whose outstanding potato crops blew the competition away. The Stillwell Cup continues to be celebrated by Delta farmers today, reflecting Delta's longstanding success in agriculture and history as one of the earliest potato harvests in Canada.
Visitors will have an opportunity to customize their experience upon entry into the Discovery Centre where they'll learn about the contributions of the pioneers in Delta and the importance of the region to farming and transportation. They'll also have an opportunity to see "then and now" to show the growth of the communities of Ladner, Tsawwassen, and North Delta.
For more information on this news release, contact the Mayor's Office at 604-946-3210 or e-mail MayorHarvie@delta.ca.