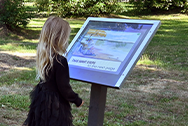 On Thursday, June 24, 2021, the City of Delta, in partnership with the Rotary Clubs of Tsawwassen and Ladner, the Delta Child Youth Committee, and the Delta Community Literacy Committee, unveiled the new StoryWalk® Project. The unveiling took place along Grove Trail at Beach Grove Park, the first of three sites for the Project.
The StoryWalk® Project is a coordinated effort with the Rotary Clubs throughout Delta that integrates reading and nature through the presentation of a deconstructed children's book. Display stands that feature a different page of book are laminated and placed along a designated trail. These stands also feature fun physical literacy prompts, like hopping to the next sign post.
Image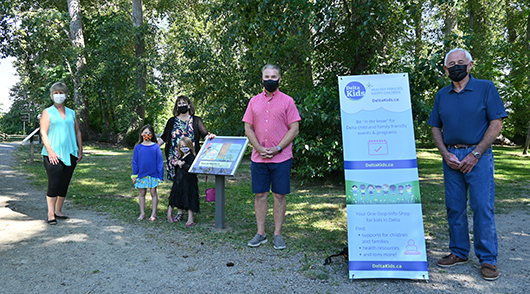 This family-friendly initiative promotes literacy and an interest in reading, while also supporting child development and encouraging people embrace the outdoors. With the help of the protective covering over the storybooks, StoryWalks® help replace screen time with green time, throughout the year.
Each month will feature a new book for residents to read while they enjoy their community's natural beauty. Delta also hosts two other StoryWalks®, one along Ladner Millennium Trail and another at the North Delta Community Park.
For more information, please email the Tsawwassen Rotary Club at info@rotarytsawwssen.org.