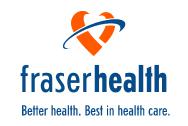 To respond to increasing COVID-19 cases in our region, including variant cases, Fraser Health is implementing enhanced management strategies for case finding and contact management to help prevent transmission of COVID-19 and COVID-19 variants in our region.
Fraser Health is proactively implementing these new, aggressive actions immediately to protect our communities from COVID-19 and COVID-19 variants. The new actions include:
Effective immediately, we have expanded COVID-19 testing recommendations to include all high-risk contacts of individuals who test positive for COVID-19, regardless of whether they are experiencing symptoms. In addition, we have expanded use of Point of Care testing for specific clusters or outbreak settings.
To prevent further transmission of the virus, individuals who test positive for COVID-19 will be asked additional questions about their exposures, their close contacts and their ability to self-isolate. In addition, Fraser Health Public Health contact tracing teams will check in more frequently to see how they are feeling and managing their illness.
Immediate steps are being taken to streamline screening for variants so we can identify and notify positive cases more quickly.
View the Fraser Health news release, dated February 22, 2021 for more information.
For information about test collection centres, visit Fraser Health's website. For more information about COVID-19, please visit fraserhealth.ca/covid19.
To book a COVID-19 testing appointment, complete a COVID-19 test booking form.