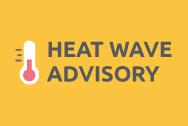 A dangerous long duration heat wave will affect BC beginning on Friday, June 25 and lasting until Tuesday, June 29. 
This record-breaking heat event will increase the potential for heat-related illnesses.
Drink plenty of water even before you feel thirsty and stay in a cool place.
Check on older family, friends and neighbours. Make sure they are cool and drinking water.
Never leave people or pets inside a parked vehicle.
Watch for the symptoms of heat illness: dizziness/fainting; nausea/vomiting; rapid breathing and heartbeat; extreme thirst; decreased urination with unusually dark urine.
Outdoor workers should take regularly scheduled breaks in a cool place.
To get more information: