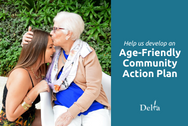 The City of Delta is looking for a qualified consulting firm or individual to conduct an age-friendly community assessment and develop an Age-Friendly Community Action Plan for Delta.
The qualified consultant will have experience in conducting community-based research, utilizing equitable public engagement processes, and developing municipal social plans/policies. 
The deadline to submit a proposal is Thursday, October 27, 2022
Please share this exciting opportunity to develop a plan for an Age-Friendly Delta.