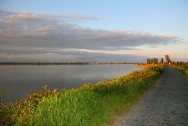 Hunting season in the City of Delta is open as of September 2, 2023. The main season will run until January 19, 2024, with seasons for some species open all the way to March 10, 2024. Provincial and federal regulations allow hunting one half hour before sunrise until one half hour after sunset. Hunters must have several federal Migratory Birds Convention Act and BC Wildlife Act permits and licences, which require mandatory training, qualifications, and insurance coverage. For hunting on private lands, hunters must first have landowners' permission.
In Boundary Bay, hunting is restricted as illustrated on the map below. To the east of 64th Street, on the seaward side of the dike, hunting is only permitted beyond 150 m from the dike. Firearms may not be discharged towards land within 180 m of the dike on the seaward side.
Image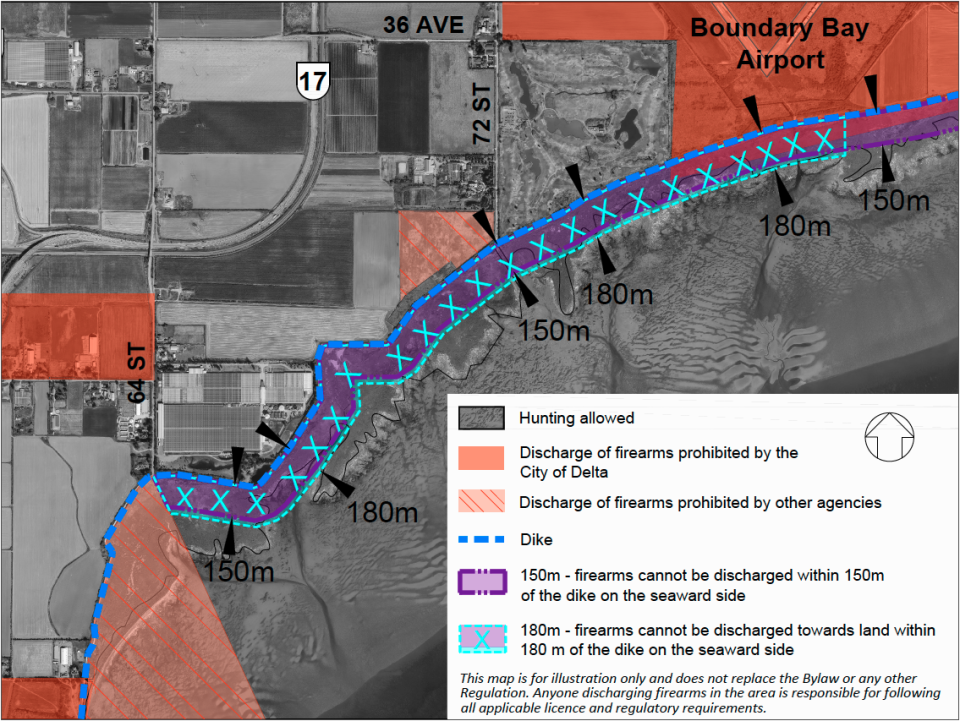 If you witness someone violating hunting rules in Boundary Bay or elsewhere in Delta, please contact Delta Police Department at 604 946-4411. If it is an emergency, call 9-1-1.  
BC Wildlife Act and Migratory Birds Convention Act violations can be reported 24/7 to the RAPP Line (1-877-952- 7277).
Additional information, regulations, and maps can be found here:
City of Delta Discharge of Firearms Regulation
Boundary Bay Hunting Area Map (same as above)
Environment Canada Migratory Game Bird Hunting
Fraser Valley Special Area Hunting License
Hunting and Trapping Regulations Synopsis