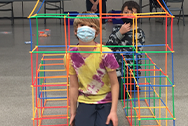 The first Pro-D Day of 2021 is here! Join us for a variety of recreation programming to keep you active on your day off from school. Take a look at what we're offering below: 
Pro-D Day Skates
Sungod Recreation Centre - Register here!
9-9:45am
9:45-10:30am
10:45-11:30am
11:45-12:30pm
8:15-9pm
9-9:45pm
Ladner Leisure Centre - Register here!
9:15-10am
10:15-11am
11:15am-12pm
8:15-9:15pm
Pro-D Day Camp
School's out for the day so come to your local Recreation Centre to meet new friends and have fun. Activities may include arts and crafts, sports, and other exhilerating activities! Those who are enrolled in kindergarten and are at least 5 years of age may register.
Two-Hour Directed Drawing
This 2-hour art class will be held via Zoom from the comforts of your home. Participants will work on two projects – both directed drawing and completed with watercolour painting. If time permits, participants will tackle a third project. Breaks will be available throughout the class. 
There are supplies you will need from home to complete these projects. See supply list in the view details section. If you do not receive your Zoom invite an hour before class is scheduled to begin, please contact ldoepker@delta.ca to request it.