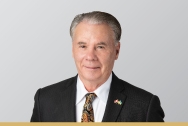 For Immediate Release – November 9, 2023
Today, Mayor George V. Harvie wrote a letter to Rob Fleming, Minister of Transportation and Infrastructure, to request the postponement of the Highway 17A Overpass repairs until January 2024.
"In discussion with the Delta Chamber of Commerce and other local businesses, we recognize that closing the Highway 17A Overpass during the busy holiday season would negatively impact our community," said Mayor Harvie. "That is why I reached out to Minister Fleming to work together on finding alternative solutions."
With the delay of the Highway 17A Overpass repairs to January 2024, the project would need to be completed by March 2024 in order to allow for increased farming activity in the spring.
"Our community understands these repairs are necessary but we are looking to the Ministry of Transportation and Infrastructure to consider delaying the repairs until January 2024 in order to support our local businesses during the holiday period," continued Mayor Harvie. "This modest delay would also allow our staff to work with the ministry, TransLink, and local residents and businesses to find alternate traffic routes to mitigate the impacts of the repairs."
Read the letter from Mayor George V. Harvie to Minister Rob Fleming.