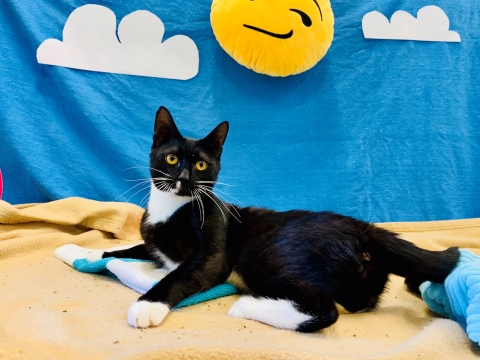 Meet Carl!
This handsome, tuxedo boy was found fending for himself as a stray, and much to our surprise, no one came for him. Since then, he has been neutered and is on the prowl for a warm and loving home! Could that be yours?
At less than a year old, Carl is still FULL of beans! He loves to play with toys and then power nap on the highest scratch post! Even more so than playtime, Carl absolutely LOVES his FOOD – he's quite the little hoover and would likely benefit from food puzzles to slow him down and keep his mind busy.
Due to Carl's friendly and fun nature, we think he would do best in a home that can provide him with lots of play and enrichment. He doesn't seem to like the company of other cats, and would prefer to be your one and only prince charming!
If you're looking for a young and fun furry companion, contact the shelter for more information!