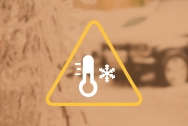 Snowfall is forecasted to begin this weekend and the City has been busy preparing the roads.
Since Monday, December 12, Delta's snow and ice removal crews have been pre-treating first and second- priority routes with salt brine to help prevent black ice from forming. City crews have dispensed 60,000 gallons of salt brine and are still actively applying.
Once snowfall begins, staff are prepared to mobilize quickly to designated routes.
Snow and Ice Response
During snow and ice conditions, roads are cleared based on the following priorities:
First Priority Routes
Public transit routes, major collectors, select school access roadways, and some roads in hilly areas. Pre-wetting, salting, sanding, and snowplowing are carried out as long as poor conditions exist.
First Priority Routes are maintained until conditions are under control. Only then are resources redirected onto lower priority routes. As soon as conditions deteriorate on these routes, our resources are moved back to first priority routes.
Second Priority Routes
Secondary through roads in residential areas, select rural roads, and school routes.
Other Routes
Minor residential streets and cul-de-sacs. Work is carried out after First and Second priority routes have been cleared, on a site specific basis, usually at the request of the residents and normally after inspection by a supervisor.
Visit our Snow and Ice preparedness page to view maps and for more information.
Helpful Tips
Please do your part to be winter wise. If you are able to stay home and off the roads, please do so. If you must drive your vehicle remember these four tips:
Use snow tires

Check road and weather conditions

Give yourself extra time for the commute

Have a grab-and-go bag with you (includes water, food, charger, and blanket)
Who to Contact:
To report a snow and ice concern, please call 604-946-4141 (ext 2) or report the issue on our TalkDelta App.