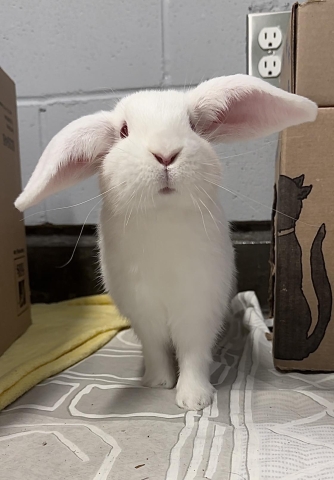 Meet Amelia Earhart! 
Braving the big scary world on her own, this sweet little lady was found hopping around North Delta. Thankfully, she could hold her own and brave little Amelia Earhart has lived up to her aviation name! Her adorable ears can't help but remind us of an airplane to top it all off!
Amelia is a spunky girl and fun rabbit who loves to get her zoomies and binkies in before sprawling out for long afternoon naps! She perks up and gets excited when visitors come to the shelter, always hopeful that someone may bring her a tasty treat!
Being a red-eyed white bunny, Amelia likely has poor vision. Due to this, she will need to be strictly an indoor rabbit.  Her ideal home would be one without dogs or cats.  We aren't sure if Amelia would like to share her space with another rabbit, but it's a possibility with the right introduction!
If Amelia also inspires you and makes you consider a rabbit friend, contact the shelter for more information!