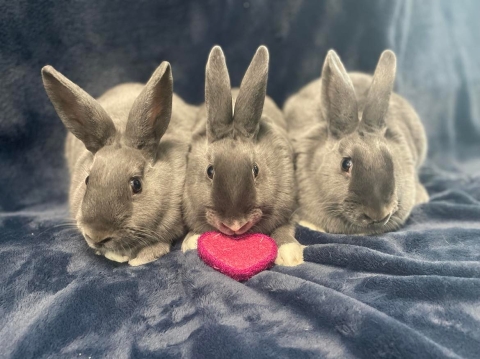 Meet Hemlock, Fig and Fern!
These 3 baby bunnies were sadly found abandoned and huddled up together in the rain at Centennial beach. When they arrived they were just over a month old, and understandably pretty scared of life!
Since then, they have been fed, cared for and spayed/neutered and are now on the search for a new home to call their own! It has become pretty evident that these 3 are quite bonded, as they can often be found cuddling or lying next to one another. Ideally, we would like to send them to a home together (if that's not too much to ask!) or as a pair if not!
Naturally, these guys are still pretty reserved and skittish, but we suspect with some time and TLC, they will flourish into lovely little bunny companions! They are curious little ones, so they'll be looking for a home that will continue to help them socialize more and more and gain the confidence they need. Slowly but surely, they are already working on it!
Do you have room in your home for not one, not two, but THREE little buns!?