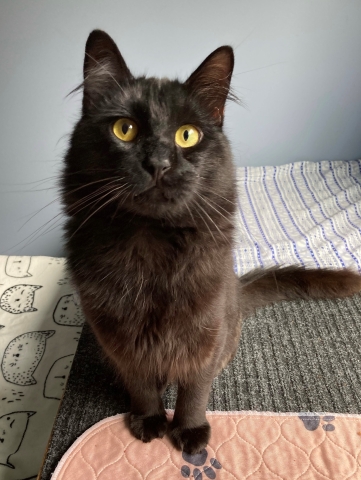 **Special Needs Cat Looking For A Special Home**
Loud and proud Tofu is ready to find his forever home! Tofu was found in August 2023 in North Delta after being hit by a car. He had severely damaged hind legs, resulting in one leg being amputated and the other requiring weeks of bandages and advanced wound care. Two months later Tofu's wounds have healed and he's adjusted to the tri-pod lifestyle. 
Tofu is active, but will need a modified home to support his mobility as he gets older. Tofu seems cat social but we suspect he could play a bit rough so we would want him to match him with a younger resident cat who wants to wrestle and play.  
Tofu is VERY vocal and likes to use his voice to make his demands. Hungry? Time to meow! Used the litter box? Time to meow! Want to play? Time to meow! Tofu's adopters will need to be prepared to hear his big voice often.  
Tofu loves to play hard and cuddle hard, but he can get a bit overstimulated and will chew at feet under blankets or arms moving too fast. We suspect a home with older teens or adults only would suit him best. 
This handsome house panther has been through a lot to survive his car accident and thrive in his foster home. We can't wait to find the purrfect forever home who will keep him busy and fall in love with his big personality.